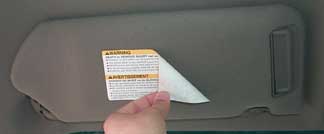 Luckly, the labels peel off easily. Just use a fingernail to lift a corner and gently lift the label from the cloth. You can use your other hand to hold the cloth down so you don't stretch it too much.

Tip from Sam: Go slowly. If you rip the sticker off too quickly, you might take off some of the surface texture and leave a flat spot in the cloth. Also, if there is any sticky residue, you can use a solvent called "Oops" that will remove it, but not damage the cloth.

Note: I have used this product and it works pretty well. However I have never used it on cloth so I recommend that if you test it on an inconspicuous spot to make sure it doesn't damage the fabric.



Larry attempted to remove the sticker from his Impala and it left a sticky mess. He suggests heating the sticker with a hair dryer first.