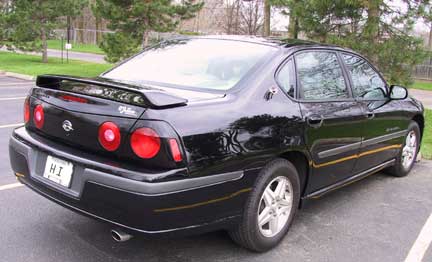 LS Sport Covers




If you didn't know, my biggest gripe about the Impala was the tail lights. Making the whole panel out of the red taillight plastic looked el-cheapo to me. I have been tinkering with different ideas to change this. I was hoping someone like GTS would come out with smoked tail light covers. Petrie found tail light tint in a can that I was considering. Another option was to paint them.

Then Chevy announced the LS Sport edition. Among some of the other things they did was to change the look of the tail lights. This is exactly what I was looking for. The question at the time was is it paint, a cover, or a whole new taillight assembly.

As you can see from Scott's LS Sport, they are covers. If you look closely, you can see the lip around the taillight.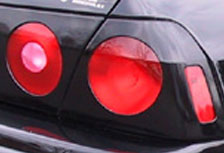 These are the part numbers we have for the covers:


Black
88954946
Left
88954947
Right
88954948
Center
Black
88956008
unk
88956009
unk
88956010
Center
Silver
88955391
Left
88955392
Right
88955393
Center

The prices range from $100 to $115 for the side covers and $157-$432 for the trunk cover. I also got a report of a price of $340 for a set with $150 for shipping These prices may not be correct so I would only use them as guidelines.

Mike and Blake say they got a quote from gmpartsdirect of $69 for the side covers and $225 for the center cover. A couple of people have reported that the NAISSO Impala superstore is offering the covers for $359. You used to have to join their club to get the membership price. I'm not sure if that still is the case.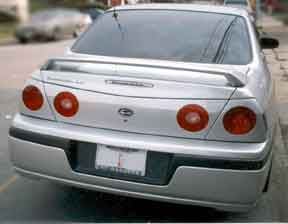 Eric was able to get a set of the GM covers, had it painted and installed it on his car.



I would like to thank Tom, Randy, Scott, Sam, Jamal, Eric, and Shannon for all the info.

If you think the price is a bit steep, go to the vinyl taillight How-To article to see an inexpensive alternative.