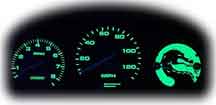 Indiglo Gauges




A company is willing to make Indiglo gauges for the Impala. They offer a pre-order program and the following is the information I have received from them:


They need 20 people to preorder gauges before they start work.
The deposit it $100, but they will not charge your credit card until they receive the 20 pre-orders.
Someone needs to send them a gauge cluster so they can develop a template. They will destroy the cluster, so the person who sends it in will NOT get it back. There are three different Impala/Monte Carlo clusters so we would need three to ensure we catch everyone.
If they don't receive 20 preorders within 8 weeks, they may drop the car from the development list.
It takes 8-10 weeks from the time they receive enough pre-orders until they receive a finished product.
They can't give me a price, but other sets seem to run between $90-$120

What are the benefits of joining the pre-order list:


Whoever sends in the cluster gets their set free. This includes free flames, race stripes and logos.
Everyone who pre-orders will get:

Their choice of Indiglo or reverse Indiglo
Their choice of colors, both dial and front
Their choice of font style
Their choice of graphics from the company's collection (flames, logos, etc)
Their choice of 6 color or 2 color inverter
20% off the order

I don't want to submit our preorder request until we get enough people because once we do, we start the 8 week time clock. What do you all think? Can anyone get a cluster (or three)?

If you have any questions, you can send them to me and I'll forward them along and create a list of Q/A's so everyone can benifit. If you ask them a question directly, please send me a copy of your question and their answer and I'll add it to the list.

The company is called SpeedHut and their web address is: http://www.speedhut.com/
This page explains what the kits are and how to install one: General Kits.

Marcus contacted the company and found out if someone were to send in an Impala logo either made in a lineart program (such as coreldraw), or a high quality jpeg, they could possibly include the logo as an option on the gauge at no extra cost, and offer it to all preorders. He also was told that the turnaround once tooling begins is usually 6 weeks, not the 8 specified on their webpage. I'm pretty sure I can come up with a good Impala logo if you all are interested.

For all those of you who wanted Indiglo gauge faces, Monte Carlo group is working on the gauge pre-order and is looking for people willing to join in on the pre-order. The gauge package is supposed to be the same since the Impala and MC are pretty much interchangeable.

This is for the Tach gauge package. If you are interested in joining the pre-order, contact Tom at tchris0626@hotmail.com

If you are looking for the base gauge package, an Impala owner is heading that pre-order. Contact him at: alanwehbe@hotmail.com

If you want to try something different, make your own faces. Jesse provided this link to get you started.



The LS and base gauge sets have been accepted into the development queue. If you want a set, go on over to SpeedHut and sign up. It's on the Model Development Program page on the SpeedHut site.